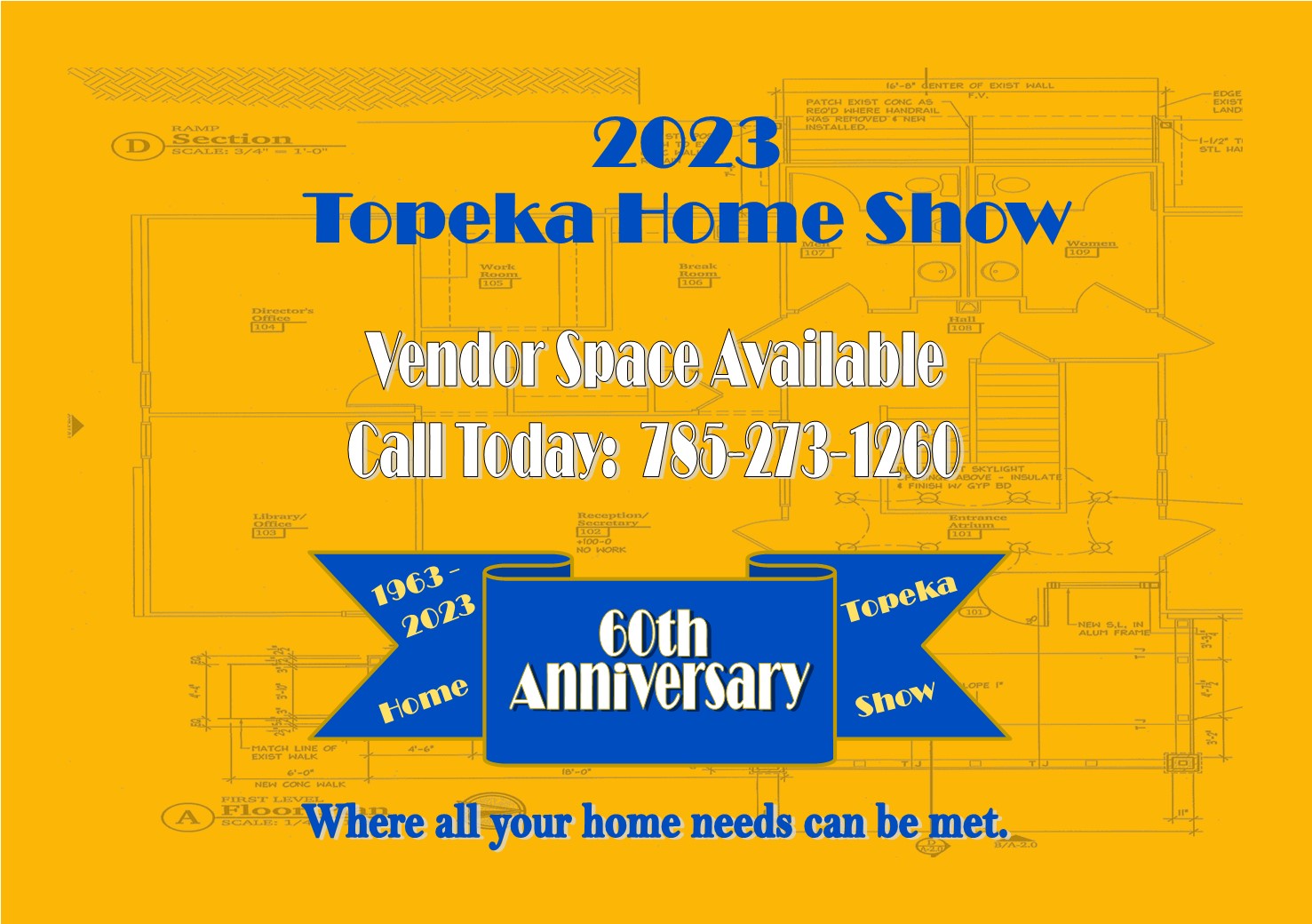 The 2023 Home Show will be held on February 10th, 11th, and 12th 2023.  This year, we will be celebrating the Home Shows 60th Anniversary, and we are working to ensure it will be the biggest and best that the Topeka area has seen.  The Topeka Area Building Association has vendor spaces available.  Please contact the office at (785) 273-1260 to reserve your space today. The show will take place at the newly renovated "Stormont Vail Event Center,"  During 2020, the Event Center has undergone major changes and upgrades, offering nearly 25,000 additional square feet of exhibit space, new concession area, new bathrooms, new lighting…you will be amazed at the new look!!  Please be sure to check back with us for special offerings. 
Home Show Hours
Friday, Feb 10th 12 pm – 6pm
Saturday, Feb 11th 9am – 6pm
Sunday, Feb 12th 10am – 4pm
Tickets
Tickets can be purchased at one of the following locations:
Presale: Tickets are $5 beginning January 11th thru February 9th.
Buy 1 Get 1 Free
Custom Wood Products Firehouse Boutique
Carpet One of Topeka Community Bank
DeBacker's Inc ABC Supply
Denali Home Design Sarto
Topeka Area Building Assoc
2023 Topeka Home Show Sponsors
2023 Home Show Vendor Listing
| | |
| --- | --- |
| 1 | Home Improvement Gallery |
| 2 | Home Improvement Gallery |
| 3 | Heritage Tractor |
| 4 | Heritage Tractor |
| 5 | Heritage Tractor |
| 6 | Twins Lawn & Landscape |
| 7 | Appelhanz Roofing |
| 8 | Kimber Wright Jewlery |
| 9 | Quality Water Treatment |
| 10 | Quality Water Treatment |
| 11 | Erwin Investment |
| 12 | Builder Bees |
| 13 | 4 Rose Pools |
| 14 | Hello Garage |
| 15 | Hello Garage |
| 20 | Aerus Home Solutions |
| 21 | Norwex |
| 22 | Bath Wizard |
| 23 | All About Dips |
| 24 | Window Source of Kansas |
| 25 | Keller Williams Moore Home Team |
| 26 | Flagpole Solutions |
| 27 | Kaw Valley Solar |
| 28 | Four Seasons Home Products |
| 29 | Window Source of Kansas |
| 30 | Cambridge Kitchen and Bath |
| 31 | Cambridge Kitchen and Bath |
| 32 | Elemental Electric |
| 33 | Thrasher |
| 34 | Thrasher |
| 35 | Carmona Comfort Air |
| 36 | Kaw Valley Sheet Metal |
| 37 | Kaw Valley Sheet Metal |
| 38 | CWC Electric |
| 39 | CWC Electric |
| 40 | Muddy Creek Iron Works |
| 41 | Denali Home |
| 42 | Denali Home |
| 43 | Denali Home |
| 44 | Kansas Fence |
| 45 | Squeegee Squad |
| 46 | Denali Home |
| 47 | Denali Home |
| 48 | Denali Home |
| 49 | Cap Fed Bank |
| 50 | T-Mobile |
| 51 | T-Mobile |
| | |
| --- | --- |
| 52 | NuSound Hearing |
| 53 | Dry Basement Systems |
| 54 | LeafGuard of Kansas City |
| 55 | Lindyspring Systems |
| 56 | Pulito Closets |
| 57 | Nothing Bundt Cakes |
| 58 | Black Gold Insulation |
| 59 | Black Gold Insulation |
| 60 | Climate Shield |
| 61 | Climate Shield |
| 62 | Fusion Boutique |
| 63 | Fusion Boutique |
| 64 | Seal Smart |
| 65 | Renewal By Andersen |
| 66 | Dovetail Roofing |
| 67 | Dovetail Roofing |
| 68 | Ground Source |
| 69 | Ground Source |
| 70 | Window Design |
| 71 | Window Design |
| 72 | Window Design |
| 73 | Window Design |
| 74 | Window Design |
| 75 | Window Design |
| 76 | Edward Jones Scharff |
| 77 | College Works Painting |
| 78 | Shockwave Electric |
| 80 | Curb Appeal Powerwash |
| 81 | LeafFilter Gutter Protection |
| 82 | Scentsy |
| 83 | Bob's Janitorial |
| 84 | Ornate Skin |
| 85 | Bob's Janitorial |
| 86 | Tall Grass Windows |
| 87 | Tall Grass Windows |
| 90 | Bordner |
| 91 | Bordner |
| 92 | Bordner |
| 93 | Bordner |
| 94 | State Farm Brandon Aldrige |
| 95 | Azura Credit Union |
| 96 | Gutter Helmet |
| 97 | Azura Credit Union |
| 98 | Mark Boling Construction |
| 99 | Mark Boling Construction |
| 100 | Hoyt's Trucking |
| 101 | Hoyt's Trucking |
| | |
| --- | --- |
| 102 | Superior Sleep Experience |
| 103 | Superior Sleep Experience |
| 104 | Superior Sleep Experience |
| 105 | Superior Sleep Experience |
| 106 | Modern Masonry |
| 107 | Modern Masonry |
| 108 | Window World |
| 109 | Window World |
| 110 |  Jackson's Greenhouse |
| 111 | Lower Heating |
| 112 |  Jackson's Greenhouse |
| 113 | Midland Exteriors |
| 114 | Midland Exteriors |
| 115 | Midland Exteriors |
| 116 | McCray |
| 117 | McCray |
| 118 | McCray |
| 119 | McCray |
| 122 | PWB |
| 123 | PWB |
| 124 | Blue Dot |
| 125 | Blue Dot |
| 126 | Silver Creek Lights |
| 127 | Browns Tree Service |
| 128 | Browns Tree Service |
| 129 | American Family |
| 130 | Community Bank |
| 131 | Heartland Granite |
| 132 | Heartland Granite |
| 133 | Heartland Granite |
| 136 | Martinek & Flynn |
| 137 | Martinek & Flynn |
| 138 | Martinek & Flynn |
| 139 | Martinek & Flynn |
| 140 | Drippe |
| 141 | Drippe |
| 142 | Drippe |
| 143 | Tailored Roofing |
| 144 | Tailored Roofing |
| 145 | Tailored Roofing |
| 148 | Kaw Valley Bank |
| 149 | Mosquito Joe |
| 150 | Foundation Recovery |
| 151 | Foundation Recovery |
| 152 | Prellwitz Construction |
| 153 | Overhead Door |
| 154 |  Gutter Cover of KC |
| | |
| --- | --- |
| 155 | Michael's Resurfacing |
| 156 | N-Hance Wood Refinishing |
| 157 | AO Nola Praline Candy |
| 158 | Michael's Resurfacing |
| 159 | Michael's Resurfacing |
| 160 | FireHouse Boutique |
| 161 | AJ Construction |
| 162 | Olde Westport Spice |
| 163 | Starr Wealth Management |
| 164 | Electrical Specialists |
| 165 | INEW Distribution |
| 166 | Benchmark / Roofmax |
| 167 | Better Homes & Gardens Realty |
| 168 | Dultmeier Roofing |
| 169 | Dultmeier Roofing |
| 170 | Champion E-Commerce |
| 171 | Neighborhood Hearing |
| 172 | Chavez Restoration |
| 173 | Great Plains Design Center |
| 174 | Chavez Restoration |
| 175 | Great Plains Design Center |
| 176 | UNITS Moving & Portable Storage |
| 177 | Quality Water |
| 178 | Cutco |
| 179 | Top Purple |
| 180 | Thermal King Windows |
| 181 | Thermal King Windows |
| 182 | Great Plains Design Center |
| 183 | Culligan Water of NE KS |
| 184 | Great Plains Design Center |
| 185 | Culligan Water of NE KS |
| 186 | Wray Woodworking |
| 187 | Wray Woodworking |
| 188 | Wray Woodworking |
| 189 | Wray Woodworking |
| 190 | Devaders |
| 191 | Latta-Whitlow LLC |
| 192 | Latta-Whitlow LLC |
| 193 | Bath Pro KC |
| 194 | Bath Proc KC |
| 195 | PE Foundation Solutions |
| 196 | PE Foundation Solutions |
| 197 | Gourmet Grater |
| 198 | Genco Turf Group |
| 199 | Lady Lux |
| 200 | Lady Lux |